I'm obsessed with Scottsdale Arizona. I would totes move there.  With its myriad of outdoor eateries, the most perfect weather (in April at least), nightlife, shopping, and nature… Scottsdale is all around a joyful city.  Two nights there were definitely not enough although  we  certainly  squeezed  in  plenty.
Hotel: Saguaro
Located in the heart of Old Town, the Saguaro was the perfect place to stay.  We could easily walk to dinner, shopping, and night life.  It's super cute with a retro/pop vibe which outweighs the mediocre room.
Upon arrival we snagged a spot poolside where I ordered a frose (which melted in minutes). We spent a few hours relaxing out there and taking in the Arizona sun.  The weather in April was absolutely perfect and the best part – no humidity.  
Food:
First stop on the list was Diago Pops.  This Instagrammable Mexican hot spot came up in our research repeatedly.  The reccos were spot on.  It's the cutest little restaurant with soft pinks and turquoise decor and a massive outdoor patio.  I had a watermelon mint margarita which was super fresh and so fab, I had to have another.  We split chips and guac and for the main event I got one of each of the chicken tacos.  They also bring out a carton of sauces.  There was a pink beet sauce that was surprisingly tasty.  We loved it so much, we came back on our last day before the airport.  This time, I grabbed the chicklets on the way out. Totally reminded be of 8th grade Spanish class.
For dinner we had a reservation at Olive & Ivy. This place had a bunch of good reviews so I was excited to check it out. It definitely was not worth the hype. The menu was expansive so its suitable for picky eaters and the place itself is massive.  Like most of the Arizona eateries, there was a big outdoor patio which was located on the water. Unfortunately, our hostess refused to sit us out there, the service was slow, and the food was nothing special.  I enjoyed my Mediterranean salad  but how do you mess that up?  My friends got some sort of chewy chicken and overcooked shrimp risotto .  Neither were impressed with their meal.
On the first day I woke up super early and  strolled the quiet streets of Old Town and ended up at Cartel Coffee. I grabbed an iced chai tea latte and a cookie because they looked freaking amazing and it did not disappoint.  
We met for breakfast at Farm & Craft.  You order and pay at the counter which I loved. It's great if you're with a large group and makes bill splitting easy because you pay for what you got.  I got a green juice which was very good and then I also ordered an egg sandwich.  Also good.  My friends enjoyed their food as well but the acai bowl was a little on the small side.  I saw on Instagram they serve drinks in watermelons. I would have loved one of those but it was way too early.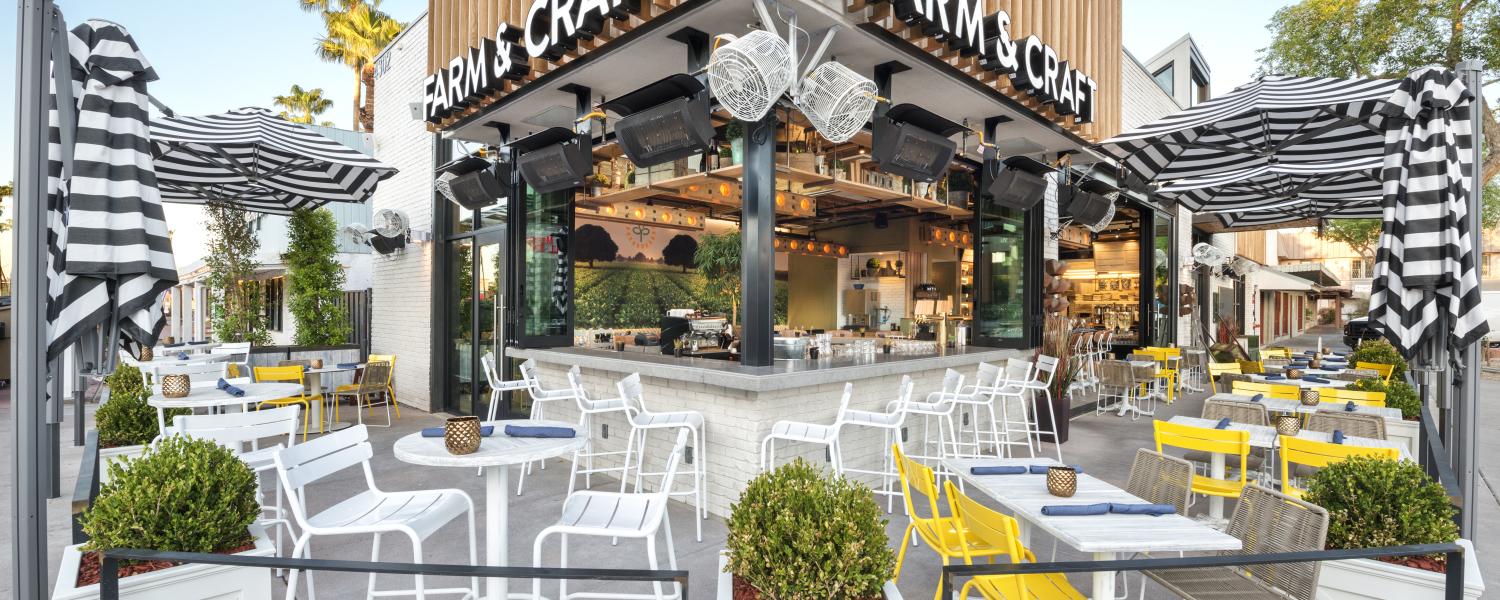 Didn't snag a pic so got it from here.
We also ate at another Mexican joint, Cien Agave which was a couple of blocks from our hotel.  Got guac and tacos as well.  Tacos came with rice and beans which was nice.  Also tried a prickly pear martini. Apparently prickly pear was very Arizona.  It was a little sweet for my liking. Overall food was enjoyable but I still preferred Diago Pops.
Spa Day: 
Did you know Scottsdale boasts the highest number of spas per capita in the entire United States?  So a spa was definitely on the to do list.  It's not quite the mega spas like Miraval and the Enchantment but are still quite nice.
Well & Being Spa at the Fairmont Princess.  It was a bit of a drive from Old Town – probably about 20 minutes.   We had a 2 o'clock appointment and arrived before noon to enjoy the amenities.  They had a pool with  a stunning  mountain view and poolside service. I enjoyed a mojito and salad.  There was an outdoor waterfall jacuzzi next to a picturesque courtyard.  Inside there's the usual hot tub, cold pool, sauna, steam room, swiss shower, and nap pods. 
After enjoying the extras I had the Havasupai Falls service. This full body service was more about releasing toxins and negativity energy so it began with a sage smudging followed by a dessert salt body scrub.  Then, I rinsed it all off then sat in a magnesium bath for about 20 minutes. I wasn't aware a bath was part of the service and annoyed that I had to waste 20 minutes of it in a tub.  At least my lady left cold wash cloths, ice water, and hydrating spray by the side to make it more enjoyable.  After that a quick hot stone massage, then I got cacooned in a warm herbal wrap which is basically wet towels and blankets that help you sweat and release toxins.  Closed it out with a Sedona red clay mask on my face and a warm coconut scalp massage. 
Overall it was a very relaxing experience. However, it cost almost $500 with tip and it definitely was not worth that. I wish I got a massage or something basic.
I did a lot of research on the spas before landing on Well & Being.  Other spas that looked super cool were Joya at the Omni which was Moroccan themed, Sanctuary Resort & Spa, The Four Seasons Spa, and Spa Avania at they Hyatt Regency.
Shopping:
We road an Uber bike from our hotel to Fifth Avenue.  There aren't exactly bike lanes so I almost got hit by a car pulling out of a bank soooo needless to say we did not take them back to the hotel.
Fifth Avenue in Old Town is filled with boutiques and souvenir shops.  It annoyingly is open from 10/11 to 6PM which is smack dab in the middle of the day.  It's not like New York. The owners seem to stroll in and open whenever they want.
The stroll down the street is enjoyable. There's a couple of statues and many benches with cool stats.
There were a few cute stores there but I wasn't really impressed.  I wouldn't say this is a must do if you only have a couple of days.  However, if you LOVE shopping, you'll probably enjoy it a lot more than I did.
NightLife:
Around 9 on a Friday, we took a golf cart for $3 each to the Entertainment District in Old Town.  I was in awe when we arrived. There were so many bars in one location and it's easy to bar hop.
Every girls trip I find my favorite spot and always end up back there. For this trip it was Dierks Bentley Whiskey Row.  The early hours played country but the late hours played top 40.  Loved the low key vibes here.  Bathroom line was quite long though. Def not enough stalls.
Then we went across the street to El Hefe.  The music here was more techno and dance.  There was a tiny "dance floor" in the front by the DJ.  It definitely wasn't the scene.
After that we went to The District which is connected to Maya. It was a nice open outdoor area but the party was definitely not there that night either.
We also checked out the Bottled Blonde. Holy crowded.  When you walk in there are all bottle service tables around the perimeter. There's only a tiny space between those tables and the bar and security is constantly pushing you forward.  The crowd there was also super drunk and obnoxious.
There were many other bars there that we didn't have the opportunity to check out.  I also feared that this would be super young and collegy but it wasn't.
In addition to those bars in the entertainment district there were many random bars scattered throughout. Some with rooftops, etc.  So definitely a heavy bachelorette party location.
Botch and Learn
There's a little River in Old Town. I insisted we had to take an Uber to Olive & Ivy because of that bridge. Nope, it's completely walkable.
We only stayed in Scottsdale 2 nights I would have liked one more and I wish I also explored Phoenix.
We rented a car to drive from Scottsdale to Sedona and the Grand Canyon. Luckily I had my Hertz points otherwise for 4 nights and 5 days it would have been almost $700!  That's cray. Instead it was just shy of $200.  So expect pricy car rentals.
For the most part, I did everything I wanted to do. I was a little bummed that I didn't fit in a hike through the Sonoran dessert.